Retailers hunting for retail premises to open shops to enlarge their distribution networks, have bubbled over with joy as a lot of products have been put on sale, with very reasonable prices.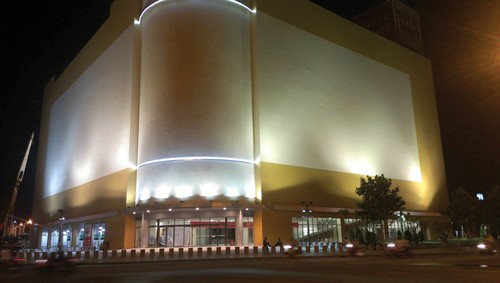 A lot of businesses decided to sell parts of their land funds to get capital for investment. Commercial banks have put houses and land, which were the collaterals for loans, on sale, to collect debts. These could be the golden opportunities for retail chains to grab to expand their business in Vietnam.
A local newspaper has quoted its source as reporting that a commercial bank in HCM City is seeking the buyers for the 1-hectare land plot at the center of district 10. The land plot, suitable to be developed into a shopping complex, is believed to have "very reasonable price."
The project was initially developed by a foreign enterprise, which was described as a "lucky investor" because of the land plot on the advantageous position. However, the investor later had to say goodbye to the project due to the financial problems.
577 Company in 2012 transferred the 7,000 square meter land plot in Phan Thiet City to South Korean Lotte Group. The deal was worth VND96 billion.
Tien Dat Electronics Company has called for investment cooperation on its land plot on Nguyen Huu Tho road in district 7 in HCM City.
The ad pieces on the sale of land plots for shopping mall projects in HCM City, Vung Tau and Bien Hoa Cities can be seen on a lot of newspapers.
The real estate market has been cool for a long time due to the economic recession. However, the "golden land areas" in big cities, which can be developed into supermarkets or shopping malls, have always been in high demand.
On December 5, Lotte Mart inaugurated the shopping mall in Phan Thiet City. Prior to that, in November, the South Korean retailer opened a shopping mall in Binh Duong province.
Businessmen now whisper in each others' ears that Lotte is a "big shark" which is hunting for land plots everywhere. To date, it has had six shopping malls nationwide, while it plans to have one more in Hanoi later this year.
In 2014, the South Korean group would implement the two projects in Go Vap district of HCM City and in Can Tho City. It is now negotiating with some investors to acquire more land to increase its coverage in the Vietnamese market.
Japanese retailer Aeon has also been reportedly looking for the advantageous retail premises in the central area of HCM City and in the suburbs to develop different retail models, after it chose Tan Phu district in HCM City, Binh Duong province and Hanoi as the places for its first shopping malls.
Retailers, both foreign and Vietnamese, have been gearing up to implement their plans to expand the distribution networks before other big guys jump into the Vietnamese market.
The French Auchan group, for example, has returned to Vietnam, having announced that it would spend $500 million to develop big distribution centers in Vietnam in the next 10 years.
With the high demand for retail premises, retailers now pay their special attention to the bad debts mortgaged with real estate that commercial banks offer to sell or call for investment cooperation.
Source Vietnamnet