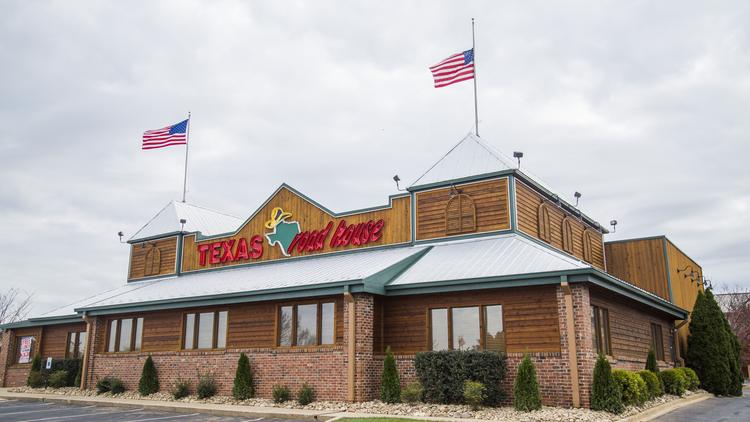 Louisville-based companies Texas Roadhouse Inc. ranked among the top 10 most reputable quick-service restaurant chains in the United States, according to a report by research and advisory firm Reputation Institute.
Texas Roadhouse (NASDAQ: TXRH) steakhouse chain ranked fifth, and Papa John's pizza chain (NASDAQ: PZZA) was ninth on the list. Both performed well in terms of quality products and service, governance and corporate citizenship, said Brad Hecht, vice president and chief research officer of the Reputation Institute, which has U.S. offices in New York City and Boston.
"They score well in the three areas that matter," Hecht said. Their ratings for governance and corporate leadership were "unusually strong for both of them."
The Reputation Institute categorizes anything that is not high-end or fine dining as quick service. Texas Roadhouse, for example, is widely considered casual dining rather than quick service.
Other restaurant chains that made the top 10, in order, are: Panera Bread Co. (NASDAQ: PNRA), Dunkin' Brands Group Inc. (NASDAQ: DNKN), Subway, Krispy Kreme Doughnuts Inc. (NYSE: KKD), The Wendy's Co., Chipotle Mexican Grill Inc. (NYSE: CMG), Mrs. Field's Famous Brands and The Cheesecake Factory.
Papa John's corporate leadership in particular is viewed as "incredibly strong," Hecht said. Company founder John Schnatter is "positively perceived by consumers." "He is viewed as very authentic," he said.
Texas Roadhouse, on the other hand, is viewed more as a strong company, but customers don't recognize founder Kent Taylor as the face of the chain. "Texas Roadhouse does not have as much of a strong inspirational leader," Hecht said.
The steakhouse chain beat out Papa John's in the rankings because it has a slightly stronger connection to its customers.
Each year, the Reputation Institute works with a third-party vendor who surveys 27,000 to 28,000 people who represent the general United States population. Those surveyed answer questions such as, "Do you admire the company?" and "Do you hold it in high esteem?" Hecht said.
Pre-recession, most consumers were concerned about high-quality products and services, but post-recession, and as millennials gain more market share, consumers are becoming more concerned with the companies' perceived personalities.
"The companies that are more successful are the ones that establish a strong connection" with customers, Hecht said. They also are seen as open, authentic and socially responsible. Papa John's and Texas Roadhouse , he said, "both do a nice job on that."
Source: bizjournals.com
To get more information about Texas Roadhouse opportunity with VF Franchise Consulting, please visit Texas Roadhouse.
Related Post: Texas Roadhouse: A Premium Name In Casual Dining
register now
Add to Calendar
Asia/Ho_Chi_Minh
Texas Roadhouse ranked among nation's most reputable chains