That was the message from a trio of multi-unit franchisees at a session during the International Franchise Association's 2023 convention Monday, February 27.
Greg Robins, a multi-unit franchisee of Supercuts and Ideal Image, said digging deep into what's included in the franchise agreement is critical.
"Today, I look at the hidden clauses that are in the franchise agreements to make sure they're not too onerous and not too broad so I can better understand the business model I'm getting into," Robins said. "I also look at the legal agreement, because there's always a tone, and I'm reading into that.
"Some agreements are like 'if you inhale, we'll charge you $50 and if you exhale, we're going to charge you $100,'" Robins said. "Some of them can tend to be very punitive in some ways. I check for that to see if it's fair and well balanced."
In his comments, Charles Keyser, a multi-unit franchisee of OxiFresh Carpet Cleaning, Sport Clips and Ideal Image, said he looks at the leadership and where the brand stands in its category.
"I look at who's in charge and what their vision is," Keyser said. "The second thing I really look at is what the value proposition is. Is it something that's a market leader, or is it something that isn't a market leader, but there's a subset of that market that it could be big enough in a niche? Those are what I look for, as well as the opportunity to grow. Sport Clips, for example had a lot of territory that was open."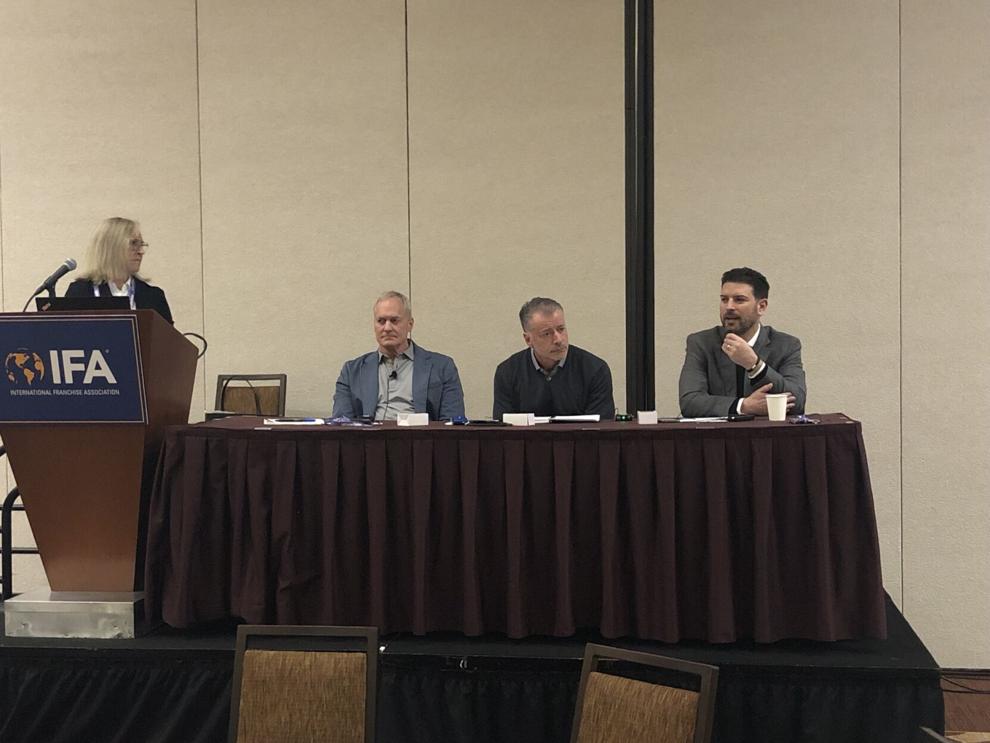 Greg Thomas, a franchisee of Great Clips and Smoothie King, noted an important step for large multi-unit operators is to speak directly to the brand's top executives.
"It's fine to talk to a salesperson, and it's fine to talk to people at the booths," Thomas said. "But when it gets down to it, you have to be able to talk to the principal of the company. At least have the principal of the company be willing to get out and shake hands."
Robins added that liquidated damages in documents is a deal-breaker when picking a company.
"I can tell you, post COVID, if you have liquidated damages in the franchise agreement, it's a non-starter for most multi-unit franchisees," Robins said. "We won't sign it, ever. We need the ability to close poor or underperforming units without any penalty to us. I understand what it means for the brand, but after what we went through, it's a non-starter."
Connecting with franchisors
As for how brands should attract multi-unit operators, Thomas said companies should strive to meet in person at major events, rather than rely on letters and phone calls.
"The best way to learn about your brand, whether it's the IFA or Multi-Unit Franchising Conference, is meeting face-to-face," Thomas said. "I'm looking for a professional-looking booth with professional-looking people who know their stuff. It's nice to see some people from the company who really understand things, more so than just some eye candy they might have up front. Someone who knows what they're doing, whether it's marketing or operations. I think that's most intriguing."
"The last two brands that we've been involved with came from trade shows," Keyser said. "It's an opportunity to talk to the franchisor right there. We can pass the speed dating really quick when we're face-to-face, and get right to the things that are going to matter. I think that's the thing with the multi-unit operators, too, getting to what matters. At a trade show, you get to what matters quick."
Once they do select a brand to partner with, panelists said training and technological testing are the best ways a franchisor can support their franchisees with multiple locations.
"Training, especially leadership training, I see that as highly valuable," Robins said. "In the salon business, the leadership has an outsized impact on the impact on the success or failure. I'm looking for the brand that offers that leadership or management training."
On technology, Keyser said franchisors should have their new software rollouts tested and vetted before they're put out to franchisees.
"Whatever industry you're in, if you have people on the front line who're trying to provide that high quality service to a customer, and they're stressed about the technology rollout that's become an issue, it hurts," Keyser said. "It's especially true for large, multi-unit franchisees. For one location, that individual franchisee, it hurts the same, but if you have 20 or 30 units and the software upgrade doesn't go well on a Friday night during a dinner rush, it's a major problem."
If you need a qualified master or area franchise in Asia, or you want to make your business franchisable, VF Franchise Consulting is ready to support. Please not hesitate to contact us by email info@vffranchiseconsulting.com or visit us https://vffranchiseconsulting.com/services/